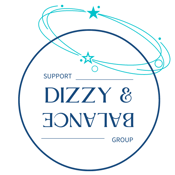 March 1st - 10:30AM - 11:30AM EST
Dizzy and Balance Support Group
Connect with individuals who experience vestibular diseases, issues or problems.
Open to individuals with dizzy and balance issues, and their loved ones.
The Ear Research Foundation's Dizzy & Balance Support Group follows VeDA Guidelines.
For more information on VeDA visit www.vestibular.org
Join in-person or virtually. Space is limited!
Reserve your spot today!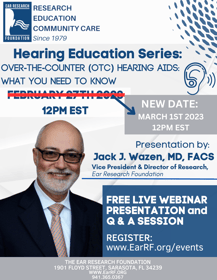 MARCH 1ST 2023 AT 12PM EST
HEARING EDUCATION SERIES: OVER-THE-COUNTER HEARING AIDS, WHAT YOU NEED TO KNOW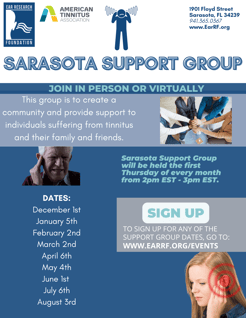 March 2nd - 2PM - 3PM EST
American Tinnitus Association - Sarasota Support Group
Join in-person or virtually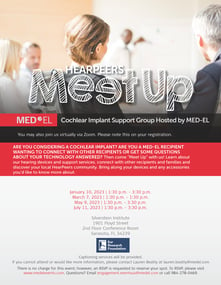 March 7th - 1:30PM - 3:30PM EST
Cochlear Implant Support Group
Hosted by: MEDEL
ARE YOU CONSIDERING A COCHLEAR IMPLANT? ARE YOU A MED-EL RECIPIENT
WANTING TO CONNECT WITH OTHER RECIPIENTS OR GET SOME QUESTIONS
ABOUT YOUR TECHNOLOGY ANSWERED? Then come "Meet Up" with us! Learn about
our hearing devices and support services, connect with other recipients and families and
discover your local HearPeers community. Bring along your devices and any accessories
you'd like to know more about.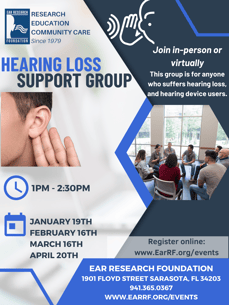 March 16th - 1PM - 2:30PM EST
Hearing Loss Support Group
Come join our brand new support group!
Hearing Loss Support Group is for any individual that suffers hearing loss, as well as individuals that use hearing devices.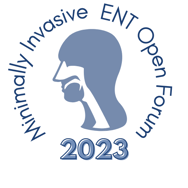 March 17th & 18th
Minimally Invasive -ENT Open Forum
For more information, please email: info@EarRF.org
Cochlear Implant Support Group
Hosted by: Cochlear Americas
March 29th - 1:30PM - 3:30PM EST